I met Chuck Jones while we buzzed around Sydney in November 1992 for a week in a stretch limo, going from interview to interview (aaah, what a life...). Chuck found fame as the creator of Marvin the Martian, Pepe le Pew and, of course, the Road Runner & Coyote, as well as directing Bugs Bunny, Daffy Duck and Porky Pig in some of their best Warner Bros. shorts. He was the only surviving director from those golden Termite Terrace days - Isador "Friz" Freleng, his long-lived colleague, died in May 1995. Signed to a new (standard ten-year) Warner Bros. contract just before this picture was taken, Chuck set about training a new generation of animation directors.
In May, 1994, I was in La Jolla (near San Diego in California) with five of my Aussie cartooning colleagues as we attended the Reuben Awards. After the Reubens weekend, Chuck insisted that we come around to his house for lunch - so that's what we did.
Chuck died early in 2002. He is sorely missed.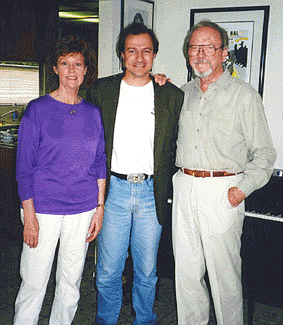 With Marian and Chuck Jones, Costa Del Mar, California, 15/05/94
The Stanley Awards is the premier event for Australian cartooning and we are often honoured to welcome friends and colleagues from overseas as special guests. In 1993, it was a treat to meet Sergio Aragonés from MAD Magazine. In my position as President of the Australian Black and White Artists' Club it was a double honour. I was able to welcome him officially on behalf of his Aussie colleagues.
Claire Rasmussen, Me, Sergio Aragonés and Angela McKinnon at the Stanley Awards, ANA Hotel, Sydney, 29/10/93
Guest speaker at the 1993 Stanleys was Senator Graham Richardson, Labor Party powerbroker (and legendary "numbers-man") who was instrumental in the success of both Prime Ministers Bob Hawke and Paul Keating. And a bloody funny speaker, too!
Senator Graham Richardson, me and Mum at the Stanley Awards, ANA Hotel, Sydney, 29/10/93

Step Further into The Skull Cave, If You Dare...

Bored?