Vale,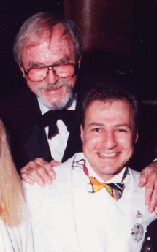 Chuck strangles Steve at the 1992 Stanley Awards, Sydney
On 23 February, the world lost the guy who created The Road Runner, Pepe le Pew, Marvin the Martian, Michigan J. Frog and Witch Hazel.
He animated the award-winning How the Grinch Stole Christmas. He took home an Oscar in 1963 - after he had retired from Warner Bros. and way before I was born - for The Dot and the Line, after winning a few others previously for Warner Brothers. He received an honorary Oscar in 1996 for 50 years making animated cartoons. And he, more than any of his contemporaries, gave "personality plus" to Bugs Bunny, Porky Pig, Elmer Fudd and Daffy Duck.
He was Charles M. Jones.
Just so people know who we're talking about... Chuck received an award from The Art Institute of Southern California in November, thanking him for his unsurpassed influence on the school's animation program and recognizing him for his worldwide influence in animation and filmmaking. One student remarked that being in the room with Chuck Jones was "beyond phenomenal!"
It seemed that sentiment was shared by Australian cartoonists, animators and public alike when he was our guest at the 1992 Stanley Awards. As President of The Australian Black and White Artists' Club, I had the thrill of spending a week with him, zipping around in a limo doing interviews all over Sydney. He modelled himself in the style of Mark Twain, whose writing had always inspired him. From the wisdom he quoted down to the clothes he wore, Chuck personified the distinguished "Southern gentleman". Not bad for a kid who grew up in California.
This sort of style included a stick and hand-tied bow ties and cravats. At one point, I asked him to show me how to tie a bow tie and he declined. "Come to me when you're eighty and I'll show you then," he said.
At the Stanleys, I was seated between Chuck and his wife Marian, and (Guest Presenter and then Leader of the Federal Opposition) the characterless Dr. John Hewson & wife Carolyn. Compere Andrew Denton greeted everyone: "We have with us tonight, on the same table, the world's greatest animator and the world's least animated man."
We held a reception for him at Sketches in Sydney - even Rolf Harris turned up to meet him. He sat at tables and signed autographs galore that week. After signing a host of animation cels for collectors, he confided to me that, when touring galleries on opposite sides of America, he and Friz Freleng would sign not only their own autographs, but forged each other's signatures on the other's cels. Collectors may now own a very rare cel signed in Chuck's name by Friz. Friz died in 1995.
And in all the week-long madness, I forgot to get him to sign my copy of his autobiography, "Chuck Amuck".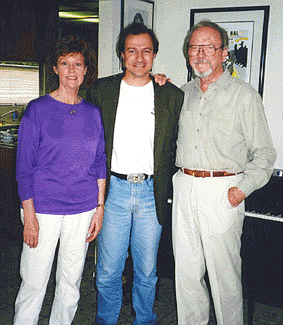 Steve with Marian and Chuck Jones, Corona del Mar, 1994
In 1994, the last time we were able to meet up face-to-face (we'd since spoken several times on the phone), I had phoned him from the NCS convention in La Jolla (near San Diego). We would be passing his place on the way back to LA and I asked if he'd be home. I mentioned that I'd be with a few "mates" (Gary Clark, Rod Emmerson, Peter Foster, Paul Dallimore and the ubiquitous Jim Russell) and he graciously offered to "put a few shrimps on the barbie". I said that wasn't necessary, but he insisted that he at least zip down the road and pick up some morning tea.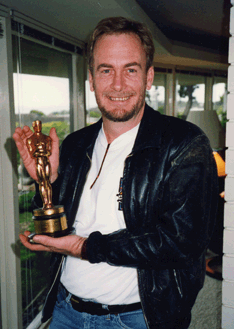 Rod Emmerson meets Oscar, Corona del Mar, 1994
What followed was, for us, a "beyond phenomenal" afternoon, standing in Chuck & Marian's kitchen sipping cups of tea. I took a photo of Rod with Chuck's 1963 Oscar (for "The Dot and the Line") - those things are really heavy! Chuck gave me a couple of books he'd illustrated.
And he finally signed my copy of "Chuck Amuck":
For Steve
Host and Friend Extraordinaire
Chuck Jones
We all knew it had been a special experience. He was the last of the original Warner Bros. animation greats. He would have been 90 this year, but I guess "that's all, folks".
For further information about Chuck's life and his legacy, click here to visit his official website.

Click the button to return to Noz Productions' Home Page
(Copyright 2002 Noz Productions)