Vale, Jim Russell...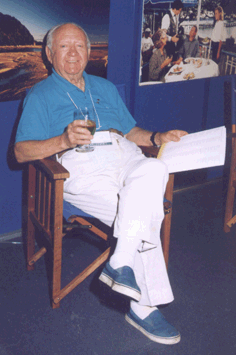 Jim Russell pictured at the AFTA Conference, Queensland, in 1998
On 15 August, 2001, James Newton Russell, AM, MBE, missed his first deadline in 62 years for the world's longest-running cartoon strip, The Potts. He was 92.
He was not only a fine artist but he had boundless energy and enthusiasm, and he always encouraged and supported young cartooning talent.
Lindsay Foyle, fellow cartoonist and a friend of Jim's for over 30 years, maintained that Jim "was living proof that you are only as old as you want to be - he never stopped working or promoting cartooning."
EARLY LIFE
Jim Russell was born in Campsie, NSW, on March 26, 1909. Cartooning was in his blood. His older brother Dan was perhaps the more accomplished (and well-trained) artist, although Jim had a keener mind for humour and parody - and marketing! Their father, himself a closet artist, encouraged both boys in their chosen field until his accidental death in 1915.
His mother, Catherine, sat in the NSW Legislative Council, the first woman member of an Upper House in the nation. She campaigned, among other things, for widows' pensions. I remember, after a meeting with the Leader of the Opposition at Parliament House in 1996, Jim taking me through the corridors until we found his mother's photo on the wall.
Jim and Dan Russell pictured in 1997. Photo courtesy Lindsay Foyle
Upon leaving school at the age of 15, the Jim worked as a copy boy on the Sydney Daily Guardian, but was soon fired for neglecting his job, preferring to mingle in the art department. He moved on to Smith's Weekly, a newspaper which - due to its policy of using only local cartoonists - had become a launching pad for new talent.
As Jim couldn't advance beyond the post of copy boy (his drawing ability was still not up to standard), he drifted through various jobs in factories and as an office boy in Sydney Stadium, where he even spent a short period as a boxer, winning all five bouts as a welterweight.
While working at the stadium, he honed his drawing skills by sketching famous boxers. His work won the attention of the head artist from Fox Films' Australian division, who offered to tutor him in the basics in exchange for two years' work without pay. Young Jim accepted the offer, working as a publicity artist until 1928.
Jim began his career as Australia's youngest political cartoonist, working for the Sydney Evening News until it folded in 1931. His love of sports led him to Referee magazine, which in turn led him back to Smith's Weekly.
For Smith's he would write film reviews and lampoon sporting celebrities in a regular segment, A Mirror on Sport. By 1938 he had been given half a page to draw a comic strip based on George Edwards' radio serial Inspector Scott of Scotland Yard, taking the dialogue directly from the radio scripts.
ENTER THE POTTS!
Jim with Stan Cross at The Potts' 50th birthday party, Sydney Journalists' Club, in 1970
One of his Smith's colleagues was Stan Cross who, in 1920, had originated a strip called You & Me. It was about two drunken louts called Pot and Whalesteeth who would meet to indulge in anti-social behaviour and (more to the point) political comment. By editorial request, it later became more of a domestic strip, featuring the scrapes between Pot and his dotty wife.
After a dispute with the editor, Cross left Smith's in December 1939 to join the Melbourne Herald, taking the character of Whalesteeth with him. In January 1940, Jim inherited Stan's strips, including You & Me. Jim lightened the tone and renamed it Mr & Mrs Pott. The Potts' children and grandchildren (occasionally mentioned by Cross but never seen) were introduced.
During the war years, Russell created two satirical strips - Adolf, Hermann and Musso and Schmidt der Sphy. According to folklore, they earned Jim a mention in Hitler's blacklist.
Jim branched out into comic books during the 1940s when import restrictions gave Australian comics a lion's share of the market. At the beginning of 1947, Jim and Dan began their own publishing company, All-Australian Comics.
The pride of the company was Tex Morton's Wild West Comic, starring the popular country singer. Like many Australian comics, it was a second-string copy of American material - in this case, similar comics featuring cowboy actors such as Roy Rogers and Gene Autry - but it was linked to the Tex Morton Fan Club, which offered a number of goodies "all for a one shilling postal note!" Dan, who also handled the art chores, was in charge of the fan club. Jim would contribute a back-up story featuring one of Dan's characters, a lady reporter named Wanda Dare.
Jim started the 1950s on a low - All-Australian Comics folded after only three years due to rising production costs. Jim resigned from Smith's Weekly after a dispute with the new editor, and not long after, in October 1950, Smith's Weekly folded. By a complex financial arrangement, The Melbourne Herald had acquired copyright to The Potts, and he resumed drawing the strip in its new role as a daily.
The panel of editors at the Herald insisted that the normally feisty strip be made more "genteel", so Jim created a character that he could "sneak" into the strip, who would represent the less attractive elements that had been excised from the main characters. As Mrs. Potts' uncle, he was considered an incidental character and less likely to be "watched" by the editors. Uncle Dick came "for just a week" and ended up dominating the strip for 50 years!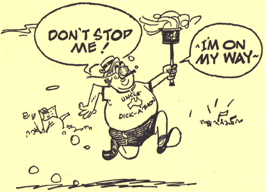 Uncle Dick in training for the Sydney 2000 Olympic Games
OTHER INTERESTS BECKON
Unrestricted by his other artistic responsibilities, Jim took his sense of humour to such radio series as The Pressure Pak Show, presented by Jack Davey. Russell remained a panellist on that show until Davey's death in 1959, then appeared on a few TV shows during the 1960s.
In his spare time he promoted his other main interest: sport. He had joined the Australian Olympic Federation in 1948, bringing aboard his media contacts and experience. Edgar Tanner, president of the AOF, later described him as "the most capable sporting public relations man I have ever met".
Jim's favourite sports included tennis (he chaired the Davis Cup publicity committee three times) and swimming. When the Olympics came to Melbourne in 1956, he was an administrator and Press Officer, working closely with the swim team. Still aware of the power of media, he introduced the team to videotape, replaying their previous swims as part of the training.
Dawn Fraser, who broke two world records at those games, gave Russell some credit for the team's excellent performance, which resulted in eight gold medals. But Jimmy was not a coach, simply an enthusiastic supporter with a few good ideas and handy skills.
As well as helping the Olympics, he continued his work as a publicist. This time, as the Olympics were being held on Australian shores, much of the job involved tourism promotion, which Jim handled with ease. He was so keen, in fact, that he would later run three travel agencies - the last one begun when he was aged 90.
By 1973, his travel expertise had inspired Frank Stewart, Australia's first minister for tourism and recreation, to call on him for "coaching" to draft Australia's first tourism policy.
The Potts hit the USA in 1960. Within a couple of months, the strip was appearing 40 American newspapers. As a result, in 1966, he became the first Australian to be accepted as a member of the US National Cartoonists' Society. He retired as a writer and cartoonist from The Melbourne Herald in 1976 but continued to produce The Potts under a special arrangement which saw the copyright to the strip transferred to him. Jim then paid the Herald a percentage of the income to syndicate and collect for him.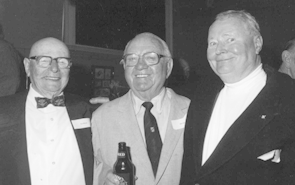 Les Dixon, Jim and Doug Albion at the ABWAC's 70th. birthday party, State Library of NSW, 1994
LATER YEARS
In 1976, Jim was awarded an MBE for his eclectic contributions to Australian society and was "sprung" by This Is Your Life in 1978. In 1985, Jim was made Patron of the Australian Black and White Artists' Club and received the coveted Silver Stanley award for his outstanding contribution to Australian cartooning. Jim had joined the ABWAC as a founder member when he was a 15-year-old copyboy in 1924. In his position as Patron, he attended almost every Committee meeting, missing meetings only when other business, or overseas travel, intervened. He was usually always working on something else - keeping busy up until the day before he died.
His wife, Billie, died in 1995, after a long spell in a nursing home while suffering from alzheimer's disease. Jim tried to visit her twice daily, but he never missed a day. Dan died in 1999, aged 93. He is survived by a daughter, three grandchildren, two great-grandchildren and, like most long-running cartoon characters, the Potts and Uncle Dick will also survive him. In fact, after 81 years of marriage, The Potts look surprisingly well. Even Uncle Dick - an overweight, cigar-chomping, heavy-drinking layabout - still survives after 50 years of getting into trouble.
For over 60 years - Jim holds the world record for continuously drawing a comic strip unaided - he guided The Potts through tens of thousands of strips. Perhaps his secret was that he was always active, never stopping to relax. He never gave a thought to slowing down. He was still doing deals and transacting business at an age where most people had given up on life.When friends and colleagues described Jim as having had boundless energy, they weren't kidding.
Jim and I travelled to the US in 1994 to attend the NCS Reuben Awards weekend - it was my first time. Through his travel agency, he had co-ordinated the entire trip, which also left room for him to zip off to a meeting when we were in San Francisco. Jim, at 86, was off to arrange the launching of a new airline!
Jim was one of the privileged few to carry the Olympic torch for a 400-metre "dash" in the Hunter Valley town of Aberdeen as it worked its way to the Olympic site at Homebush. During his stint, he showed off a pair of rarely-seen, but damned good looking legs! This was Jim's eighth olympics since Melbourne in 1956.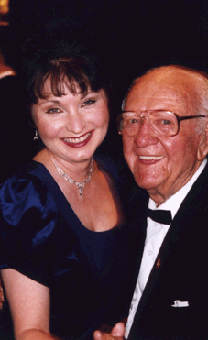 Jim cuts the rug with Di Eckert at the NCS Reuben Awards, New York, May 2000
About a year ago, Jim passed out in his travel agency office. Tests showed an irregular heartbeat and he had a pacemaker fitted. Far from forcing him to think about slowing down, all the pacemaker did was give Jim an excuse to carry on as normal.
In May, as we were discussing longevity, he said "if I can't take it with me, I'm not going" - and he promptly jumped on a plane to the NCS convention in Florida, took a free cruise and wrote a travel story to sell to the Sun-Herald! As well as The Potts, Jim had been drawing another strip, The Agency, for the national travel industry "bible", TravelTrade and had produced a series of cartoons called Olympic Circles for syndication worldwide prior to the 2000 Games.
In June, he was the guest speaker at a gathering Phantom "Phans" in Sydney. In recalling highlights from his incredible life, the audience of devotees sat in hushed silence, with jaws agape in reverence for this cartooning legend. Jim was besieged with requests for autographs. He was in his element and he had a wonderful time.
Steve Panozzo, Sarah Simpson-Goff and the late, great Jim Russell at the Lee Falk Bengali Explorer's Club dinner, 23 June 2001. Photograph courtesy of The Ghost Who Walks
Jim & Jim! JR with Frew Publications' Jim Shepherd at the Phantom dinner
The last time his cartooning colleagues saw him was two weeks before his death, at a barbeque held at Roger Fletcher's home in Greystanes, Sydney. Here was this 92-year-old man getting himself there by public transport (Jannali to Greystanes is a fair distance) and then travelling home at 2am. I spoke with him on the phone on Monday night (13 August), confirming details of a BBQ to be held at my house the following weekend. We also discussed the details for the cartooning competition judging to be held on the Tuesday. He hung up with a cheery, "See you tomorrow, mate".
He didn't appear, which was strange for Jim. Cracking a few jokes at his expense, as we always did, we weren't to know that he had been feeling a little more than "off-colour" that day. A possible stroke next morning led to heart failure at 3:00am.
The chapel at Woronora Crematorium didn't have a hope of containing the crowd that assembled there for Jim's funeral on Monday, 20 August - most of his cartooning colleagues stood outside listening to the service through a PA system. That he touched and influenced the lives of so many people in so many ways gives not only an indication of the breadth and scope of Jim's various interests, but an indication of how well he executed those duties.
He was also very good at charming my girlfriends away from me at any opportunity, too, using all the advantages of appearing to be a "lovely old man". Oh, he was a rascal alright. A lecherous old bugger with a twinkle in his eye. One hell of an upstager, a carouser and a party animal to boot. He was, at the same time, a legend, a patron, a professional and a good friend.
A mate.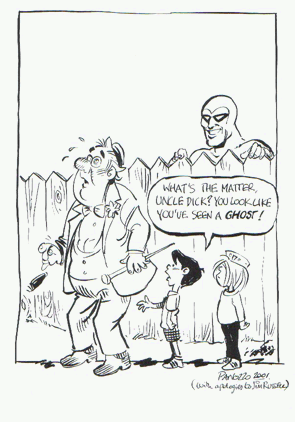 The cartoon I drew for the Bengali Explorers' Club Dinner, June, 2001. It raised $500 for Westmead Childrens' Hospital - and Jim actually gave his seal of approval by signing it for the highest bidder.

Click the button to return to Noz Productions' Home Page
(Copyright 2001 Noz Productions)