Some More Celebrity Heads!
Andrew Denton is arguably the most intelligent and sharp-witted person currently working in the Australian media. His interview programme, Denton, makes for compelling viewing and his in-depth style has won wide-spread praise. Back in 1992, he hosted the Australian Cartoonists' Association's Stanley Awards, which capped Steve's first year as ACA President. The two guest speakers that night were the legendary Chuck Jones and former Federal Liberal Party leader John Hewson. Andrew introduced them as "... the world's greatest animator and the world's least animated man", a quip which brought the house down. As it turned out, the nominees' slides were all in the wrong order and chaos ensued - Denton was in his element!
Three years later, Denton and Steve found themselves back at the same venue, drawing each other for charity. After Steve drew him, he grabbed the clipboard and proceeded to draw a caricature of Steve! Framed, it now hangs proudly in Steve's studio. Below left, Andrew has a chuckle at Steve's artwork, prior to signing it for charity. The image to the right is Denton's rendition! The thought bubble says "Help! I'm trapped in a pathetic caricature!".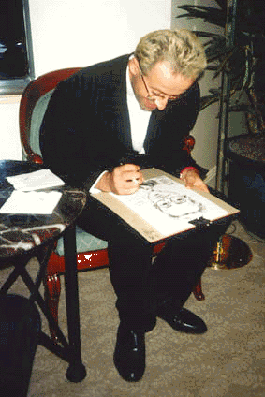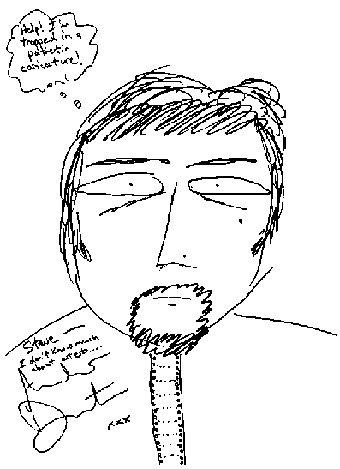 Helping to raise some money for drought-stricken farmers in 2002, Telstra sponsored a "Farm Aid" style concert at The Basement in Sydney. Performers at the benefit also had to endure caricatures by Steve, which were to be auctioned off. After posing for his caricature, Jimmy Barnes stopped still long enought for a photo (below) with Steve and his friends Chris Mangan and Amanda Capel.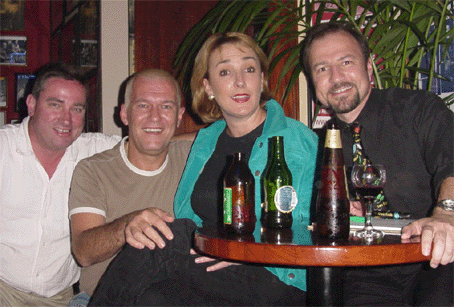 Have a flick through Steve's Photo Album!