Some Celebrity Heads!
Over the course of the last few years, Steve has been fortunate to meet a host of wonderful people. A few of them have been well-known identities. The great thing about drawing people in an "on-the-spot" situation, as opposed to working from photographs, is that you get to know a little about the person you're drawing straight from the horse's mouth (so to speak) and not via a stream of publicists and agents.
Here are a couple of Steve's favourites, with commentary:
(Apologies for the quality of some of the shots. Not all the photographers are professionals!)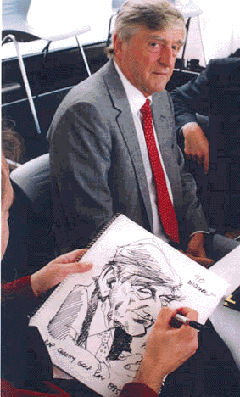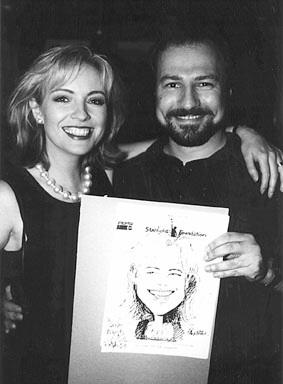 ABOVE LEFT: British chat-show host Michael Parkinson at Catalina's Restaurant, Rose Bay, 20/02/95. Steve: "Parkie puts on a resigned look for the camera, but he was a really nice bloke and (funnily ernough) asked me quite a few questions!"
ABOVE RIGHT: Stunning Australian actress Rebecca Gibney (right) at Studebaker's, Kings Cross, February 1995. Steve: "What a knockout - very distracting! This particular night restored my faith in the value of doing a gig for charity - we were raising money for the Starlight Foundation".
ABOVE LEFT: Steve: "Thanks to my good friend Sharon Forrester-Jones, I met author Jackie Collins (left) in Melbourne, 30/04/98. Collins was promoting her novel Thrill! I'm not sure whether she was terribly thrilled "Thrilled", however, when she discovered she had been caricatured, but (thankfully) she certainly reacted with good grace! The decapitation is courtesy of a fellow cartoonist, who was attempting to pose as a photographer."
ABOVE RIGHT: Laurie Lawrence, Australian Olympic Team motivator and trainer extraordinaire (right), was busy igniting fire in the bellies of several hundred L.J. Hooker Real Estate agents at their bi-annual conference in July,1994. Steve: "I agreed to swap a caricature for a signed copy of his book, Lawrence of Australia. A real Aussie legend."

Still more this way - just click me!