What Made Me Want to Draw?
EARLY INFLUENCES & HAZY RECOLLECTIONS
Memory's a funny thing. I'm often asked "what got you started?" and it's very hard to piece together the flotsam and jetsam of influence and inspiration. For one thing, it's a combination of sights and sounds - perhaps something that someone says that can inspire you to try something new.
I guess I've always had an avid interest in anything that provokes or stimulates the imagination. I believe that these sorts of imaginative pursuits in turn encourage creative thinking. Being a "child of television", it comes as no surprise that a lot of these activities involved me watching imaginative and creative television programmes! And cars... I loved cars! At eighteen months old I was apprently able to name every make of car that went whizzing past our house!
Here's an early publicity shot, taken with my younger brother Matt: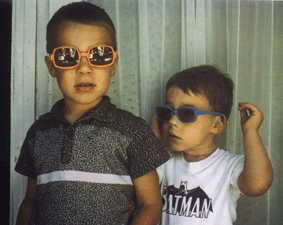 I was always (and still am) hopeless at sport. If I scored a goal or a try at school sports, my schoolmates all but declared a national holiday.
The earliest TV shows I remember watching were Zorro and Batfink. Zorro (Guy Williams) had me dashing around my parents' house slashing every wall with a pencilled "Z". My mother desperately encouraged me to perhaps use old pads of paper. My "slashes" soon became drawings of Zorro who, I must admit, looked a little like the Hamburglar:
Batfink ("My wings are like a shield of steel"), The Amazing Three and Gigantor were part of my regular animated TV diet. As was a little-remembered Australian TV show called Adventure Island, which I loved! It was when Zorro himself, Guy Williams, starred in Lost in Space that I really got hooked on imaginative science fiction. I drew the Jupiter 2 and The Robot ad nauseum - because the designs were like nothing I had ever seen:
And then came one of the best shows of all... Thunderbirds! I remember regularly dragging my father from bed at 6am just to watch Gerry Anderson's "FAB" puppets take to the skies. Of course, now I began drawing all manner of cars, spaceships and robots. I loved playing with Lego and creating fantastical vehicles of all descriptions - an extension of my drawing, except it was 3D.
I also remember vividly being taken to see Chitty Chitty Bang Bang and The Love Bug (and the rest of the Herbie movies) - I had plans for a whole fleet of distinctive, creative, imaginative cars to add to my own Batmobile which was already parked in my "mental garage". At the time, of course, I had to settle for my 1/25th scale Corgi Toys version.
Later, I watched animated shows like Marine Boy and the magnificent Doctor Who, which fascinated me with the concept of time travel. A schoolmate brought the James Bond films to my attention. Bond's love of the high-life, and his affectation for sexy women, cars and technology had me hooked. My Aston Martin DB-5 was immediately booked in for its first service by the time I was 15.
The work of brilliant cartoonists, like Mort Drucker (MAD Magazine), Jack Kirby and Steve Ditko (Marvel Comics) and Sy Barry (The Phantom) inspired me to emulate their brilliant use of line and shade; reading my favourite comics (The Fantastic Four and Iron Man) gave me an understanding of anatomy - something I now say is fundamental to being a cartoonist. You can only exaggerate something if you know how it works in real life.
Legendary Australian cartoonists, like Max Foley and the late, great Bill Mitchell and Cole Buchanan, have inspired me in word and in deed since I actually started working as a professional cartoonist. The works of Pat Oliphant and Paul Rigby continue to fascinate and amaze me. The amazing, brilliant, stupefying work of Chuck Jones, Esq., must also be included as an ongoing source of inspiration. Recent animated masterpieces like The Incredibles, Toy Story, The Nightmare Before Christmas, A Bug's Life and The Iron Giant continue this tradition of animated inspiration, and I find myself glued to the DVD "extras" time and again.
Most importantly, I am constantly try to stay in touch with in touch with my "inner child". It is easy these days to grow up too quickly, to be serious and less "childish". But when you're a kid, imagination and magic are vitally important - like making sure you don't step on the cracks on the footpath. Our world of fantasy is not only important - it's what cocoons us, makes us smile when so much out there can make us unhappy. It's a sad indictment when exercising the imagination is often derided as being "childish" and only to be enjoyed by nutters who go the science fiction conventions. These elements are fundamental to having a healthy, functioning life - without the flow of lateral thinking, we may as well sit in a cubicle in a city office block and fill in forms... which, I guess, is what a lot of these critics do.
I prefer being a cartoonist. It's a fun job, but someone has to do it!
HOW-TO BOOKS TO READ
BUSCEMA, John & LEE, Stan. How to Draw Comics the Marvel Way. New York, Simon & Schuster: 1978
JONES, Chuck. Chuck Amuck: The Life and Times of an Animated Cartoonist. New York, Avon Books: 1989
JONES, Chuck. Chuck Reducks: Drawing From the Fun Side of Life. New York, Warner Books: 1996
BOOKS TO BE INSPIRED BY
DUNCAN, David & DRUCKER, Mort. Familiar Faces: The Art of Mort Drucker. Redford, Stabur Press: 1988
McDONNELL, Patrick. The Gift of Nothing. New York: Little, Brown and Company: 2005

This way to media appearances...or...