Remembering Cole Buchanan
Cole Buchanan was my cartooning colleague and my friend, a unique man whose incredible zest for life and fertile imagination is missed by everyone who ever met him. Cole died on May 7, 1997. Without wishing to sound hackneyed, it is pretty certain we'll never see his like again.
On the day he died I wrote the following obituary which was published in The Sydney Morning Herald and Inkspot magazine:
Former ABWAC Deputy President and Secretary, Cole Buchanan, died on May 7.
His funeral, on May 12, at the Walter Carter Chapel in Sydney, was attended by around 80 of his colleagues and friends, including four Club Presidents. Current President, Lindsay Foyle, spoke at the non-denominational service. The eulogy was delivered by Cole's close friend, Mike Selby.
In this tribute, originally published in The Sydney Morning Herald on May 12, current Secretary and former President Steve Panozzo remembers his friend and colleague, who was every inch the...
freelancegenius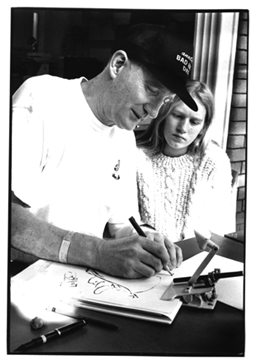 Cole working at Camperdown Children's Hospital in May 1995. He had, minutes earlier, discharged himself from Royal Prince Alfred Hospital, declaring,"If I can get sick like them, they can draw like me!"
Cole Peter Barnabas Buchanan
Born London, England, April 13,1939
Died Sydney, NSW, May 7, 1997
"Doing business without advertising is like winking at a girl in the dark. You know what you are doing, but no-one else does!" (Stewart Henderson Britt, New York Herald-Tribune)
One of Cole Buchanan's favourite quotes betrayed an incredibly diverse wealth of experience for a cartoonist. As a writer, he was superlative. As an eccentric gadgeteer, he was unsurpassed. As an inspirer, his enthusiasm was never equalled. Yet, it was as a cartoonist that Cole found his niche - a curious, eccentric profession where the sublime tenets of marketing and writing could only complement a marked talent for drawing.
Curiously, Cole Buchanan's is not a cartoonist's name popular with the general public. Indeed, Cole's greatest fame in this country was earned bridging the gap between Paul Rigby and Frank Benier on Sydney's Daily Mirror.
But, for a certain number of magazine readers, Cole was a hero.
These readers included service station proprietors who, when reading the appropriately-titled Australian Service Station, chuckled at the antics of Polly the Pumper - a bonzer, brassy and bedecked lass who filled tanks between adventures.
Then there was Captain Humungus, a hero, if ever there was one, who seemed to have a life of his own in the pages of The Picture, despite his creator's numerous attempts to have him put down. Humungus, blessed (or cursed) with a generous dose of manhood, frog-jumped his way through years of genuinely funny adventures.
Cole ached to be remembered for something other than Humungus, but, like all of his work, it was just too well written and marketed. And so, too, was the man - his biographical notes take the reader on an intercontinental carpet ride.
He sold his first cartoon to the London Daily Sketch at the age of fourteen. During National Service, he was seconded to the publishers of the British Army magazine Soldier as a combination cartoonist, press artist and art editor.
"This enabled me to spend the last year of my military service in blue jeans", he would later joke.
After graduating top-of-school from the Hornsey College of Art, Buchanan sold gag cartoons to Punch, Private Eye, The New Yorker (once) and, by syndication, The Bulletin.
After arriving in Australia, he took over Rigby's page four editorial cartoon in the Daily Mirror. His Mirror cartoons and caricatures had, at times, decorated the homes or offices of the Attorney-General, the Premier of New South Wales and his idol, Dame Joan Sutherland. He even suggested that one had ended up on a wall in Windsor Castle, but was smart enough never to try to prove it.
His career took a few side turnings. He worked for three years as Chief Graphic Designer with the NSW Health Commission, and then as Creative Director a sales promotion company, Promotional Thinking, with partner Mike Selby.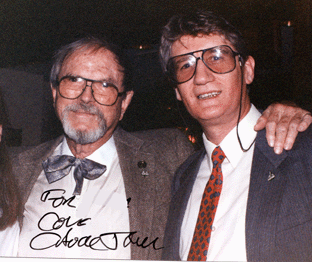 Cole meets Chuck Jones, Sydney, 1992. Click on photo to see Chuck's memorial page.
Cole returned to freelance cartooning, finding himself much in demand for private and corporate functions, trade shows and exhibitions. The discovery of a cerebral lymphoma in April 1995 curtailed not only that activity, but also his devotion to the cartooning profession and his colleagues, on whose behalf he had worked so hard.
Cole was elected to the Committee of the Australian Black and White Artists' Club in November, 1990 and, fuelled by experience and a zest for making a difference, he soon devised plans for Australian cartoonists to sell their gag cartoons to overseas markets, lobbied the Yellow Pages for a separate category for cartoonists and sowed the seed for the incorporation of the ABWAC.
The result was the elevation of the cartoonist's craft into a career of professional standing. He was a tutor for the Australian College of Journalism's cartooning course, and was a regular starter at the Children's Hospital cartooning workshops, conducted by the Club. In May, 1995, Cole checked himself out of Royal Prince Alfred Hospital in order to attend the regular workshops, declaring, "If I can get sick like them , they can draw like me!"
In recognition of his enormous contribution to the cartooning profession, Cole was awarded the Silver Stanley (Contributor to Black and White Art) Award in late 1995, an appreciation he cherished for the rest of his life.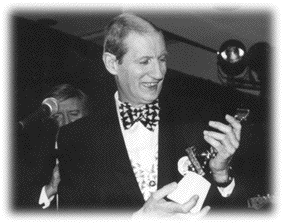 Cole attended Eric Jolliffe's 90th. birthday bash on March 1; a few short days later, he collapsed and a second "untreatable" tumor was diagnosed. His 58th birthday on April 13 became a celebration of his life - his brother flew in from Canada and Cole was surrounded by close friends.
The cancer he had once beaten had returned to claim him, but by then Cole had enjoyed two full years of extended play, largely retired from cartooning, and determined to enjoy the company of his wife, Penny, his three sons, Josh, Giles and Sam, cat Tigger and his "freelance dog", Harry.
If you have any questions about Cole, his life and work, or would like to re-establish contact with his wife Penny, feel free to email her by clicking here.

Click the button to return to Noz Productions' Home Page