Steve as his mates see him... Part 2
It is a tradition for the incoming ACA President to be lampooned by one of Australia's best caricaturists, the end result to be included in an ever-expanding gallery of Presidential portraits. Upon Steve's elevation (or descension?) to the Presidential throne in 1992, Craig Stephens was commissioned to capture Steve's likeness (below left). Craig ran away to Denmark soon after drawing the caricature. It was a good move.
At 2002's Stanley Awards in Canberra, Peter Broelman obviously had nothing useful to do, so he thought he'd capture Steve and James Kemsley as they were struggling with a prickly problem or something-or-other (below right). Good one, Pete.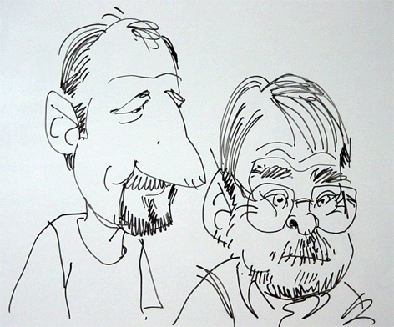 Whilst in Victoria in 1998, Steve stayed for an idyllic couple of days at Nik Scott's property outside Melbourne. upon his return to Sydney, Steve discovered that he'd left his sunglasses behind. Nik stuck 'em in the mail, accompanied by this cute little (55mm x 60mm) cartoon (below).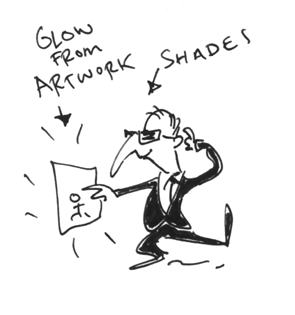 Below: Here are two more recent caricatures of Steve. The first (left) is by British cartoonist Terry Christien, President of the Cartoonists' Club of Great Britain and completed during Steve's visit to the Shrewsbury Cartoon Festival in 2006. The one the right is by one of Steve's on-the-spot caricature colleagues, Brad Wightman.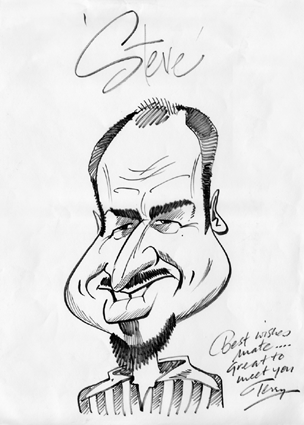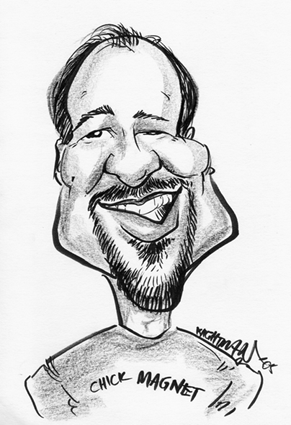 Have a look at Andrew Denton's effort!

...or return to the Main Menu!