What's New?
4 December, 2007
Vale James Kemsley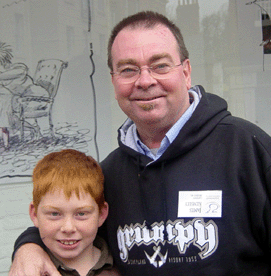 James and youngest son, Seb, in Shrewsbury - April 2006
My friend and colleague of 20 years, James Kemsley, passed away yesterday afternoon after a rather long, and heartbeaking, battle with motor neurone disease (MND). He had only just turned 59. I met Kems in 1987 after I returned from Perth, and from the outset was warm and generous to me. He helped me in ways I can't begin to describe and over the years we became close mates. His wife, Helen, and three kids (Jed, Hywel and Sebastian) have become an extension of my own family.
The devastating loss of James has sent shockwaves throughout the entire cartooning profession both here and overseas. Tributes for James have been appearing in a multitude of newspapers across the world (click here), and for good reason. Ginger Meggs, the iconic Australian comic strip he has overseen since 1984, has, under his guidance, become the single most successful Australian comic strip in history. It is now distributed throughout 30 countries and translated into a range of languages, although I understand "you beaut" doesn't translate too well into Swahili. That even one Australian comic strip can be that successful is even more amazing when it can survive against the onslaught of the American syndicated comic strip juggernaut.
James' single-handed transformation of the Australian Cartoonists' Association's fortunes is also worthy of mention. The ACA ended the 2001 financial year in the red. Upon the resignation of the then President, James took the reins (with me as Secretary) and the ACA is now a financially-sound organisation with a very healthy bank balance.
In April last year, James and I travelled to Shrewsbury in England for their annual cartoon festival, meeting up with fellow cartoonists and good mates Dean Alston, Dave Gaskill and the indefatigable Bill Stott. We had a rip-roaring time, but the slur in his speech (which had started to appear in September of the previous year) provoked concerned remarks by some of our UK brethren. He stepped down as President a few months later when it became apparent that this slight slur betrayed a far more serious condition, eventually degenerating six months ago to the point where he could no longer form distinct words. But the drawing continued unabated and his emails took the place of the spoken word. The last three months saw a very sudden decline in his health, to the point where he couldn't eat and a feeding tube had to be fitted. Eventually, James was dependent on an oxygen mask... but he still remained as active as possible, churning out Ginger Meggs strips, assembling them digitally using file drawings in his computer. Almost up to the end, James was (at one point) trying to teach one of his friends how to use a publishing program on his beloved Mac laptop.
He slipped into a coma yesterday afternoon before passing away.
His passing leaves a gaping void in the very fabric of Australian cartooning. Ginger Meggs continues, however, under the assured guidance of Jason Chatfield whom James chose to continue the strip. He will do a fine job.
God bless, Kems.

Jason Chatfield's first Ginger Meggs strip, which pays homage to Kemsley
16 November, 2007
Just finished a hectic tour of duty drawing caricatures of accountants at CPA Congresses in Sydney, Adelaide and Canberra. The rare opportunity to travel interstate creates a marvellous opportunity to catch up with good friends, too!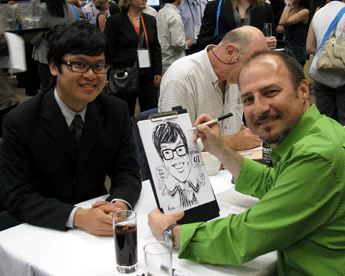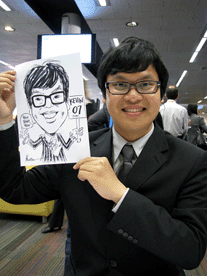 Steve drawing Canberra accountant "Kevin" at CPA Congress, Canberra, 15 November 2007
6 November, 2007
Melbourne Cup at the South Australian Jockey Club, courtesy of the amazing Sharon Forrester-Jones. Met this lady in 1996 on the Fairstar and have been firm friends ever since. When Sharon found out I was coming to Adelaide, she insisted on me flying over early to attend the lunch. Had a brilliant time - and for once, I was at a $300 per head function where I didn't have to work drawing caricatures!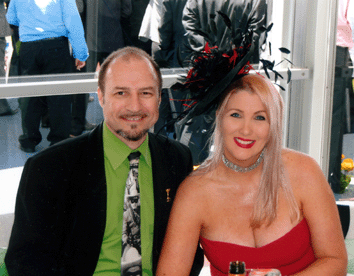 With Sharon Forrester-Jones, SAJC Melbourne Cup lunch, 06/11/07
1-4 November, 2007
STANLEYS 2007! What an amazing time!
To find out more about the Stanleys and why it's so important to Australian cartooning, go to the Stanley Awards page on the ACA website.
This year, much of the lion's work was undertaken by the sterling Peter McAdam, who not only had us drawing caricatures on stage in the middle of Wollongong Mall, but made sure I was on TV and radio as well! Click here for information on the ABC Radio interview, which I did with Tony Rafty.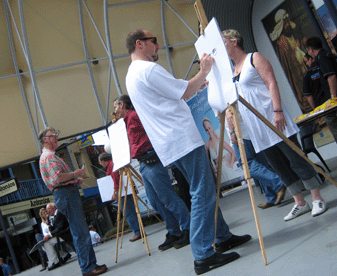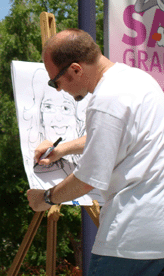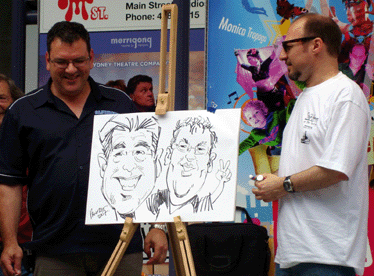 On stage in Wollongong with the brilliant George Haddon, and drawing a couple of local radio DJs, 02/11/07
6 March, 2007
The Sydney leg of the Bald Archy Exhibition opened at the Queen Victoria Building today. It's always fascinating to see the range of subjects and styles at this show and it's very satisfying to see "Bindi" holding her own up there on the wall (below left). The 2007 winner is Xavier Ghazi (below right) - for the third time - with his portrait of Dame Edna/Barry Humphries. Of my ACA colleagues, Matt Adams entered a brilliant portrait of Naomi Robson, Simon Schneider captured a jolly likeness of Jamie Packer and Judy Nadin fielded 2 entries (Hugh Jackman and Kylie Minogue) which were pretty schmick, too.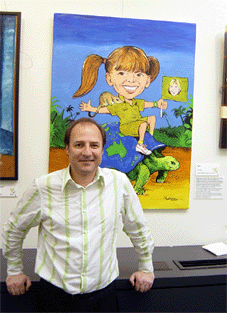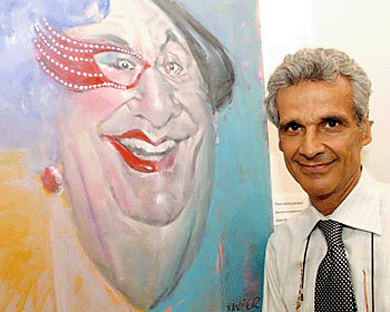 The Bald Archy is a satirical take on the famed Archibald Prize, which is the premier portrait painting prize. Consequently, a lot of cartoonists enter work into the BAs, which will be unveiled on 6 March at Sydney's historic Queen Victoria Building and remain on show until 1 April. From there, the Bald Archy becomes a travelling roadshow, visiting Canberra, Coffs Harbour, Melbourne, Adelaide, Bright and Deniliquin during the course of the year.
More details can be found at http://www.baldarchy.com.au
8 February, 2007
My caricature of (Sunrise hosts) Melissa Doyle and David Koch appeared on TV this morning. Whew - what a rush-job! Drew it on Monday afternoon, JUST made the post office for the overnight express delivery to Wagga Wagga and it was framed in time to be presented on-air Thursday morning.
Click on the screen-captures below to see the segment:
Creator and Curator of the Bald Archy Prize, Peter Batey, presenting the caricature on-air (Sunrise, Channel 7 Sydney, 08/02/07)
COMING UP
Stay tuned!

CLICK on the button to return to Steve's Home Page!