Happy 40th. Birthday, Mr. Squiggle!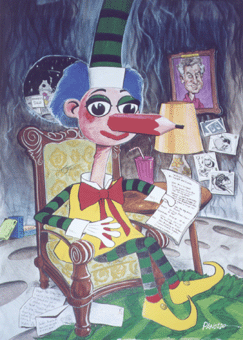 This portrait by Steve Panozzo was completed in commemoration of Mr. Squiggle's 40th. birthday
Mr. Squiggle and Friends, easily Australia's longest-running television programme, turned 40 on July 1, 1999. Mr. Squiggle uses his pencil-nose to create recognisable drawings from children's squiggles, always drawing them upside-down.
"Everything's upside-down these days", Mr. Squiggle is often fond of saying.
The creation of Norman Hetherington, a former cartoonist for The Bulletin (he took over as head cartoonist from Norman Lindsay), Mr. Squiggle lives on the moon at 93 Crater Crescent. He travels to Earth in his trusty pet, Rocket, and is ably assisted by Bill Steamshovel, the grumpy Blackboard, Gus the Snail and a human helper.
Squiggle's current helper is Rebecca Hetherington, the show's sixth presenter, while Norman's wife, Margaret, has written all the scripts over the past 40 years. In a surprising twist, Squiggle's experiences in living on the moon have made the character a popular guest at science fiction conventions.
Norman was presented with an Order of Australia in 1990, saying, "this Order is in my family's honour".

Click the button to return to Noz Productions' Home Page
(Copyright 2001 Noz Productions)