More On-the-Spot Fun!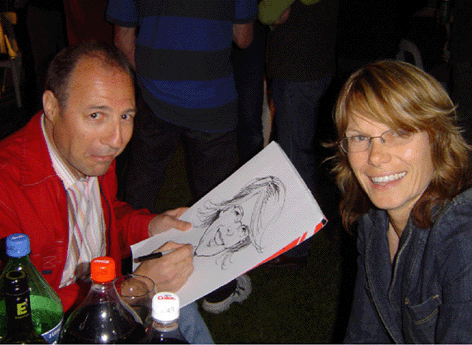 ABOVE: Uh-oh! Caught working! November 2006 saw the annual Australian Cartoonists' Conference, and duelling felt-tip pens is the order of the day! Cass Campbell is the lucky model - in such a relaxed atmosphere, the drawings came easily and Cass was very happy with the result.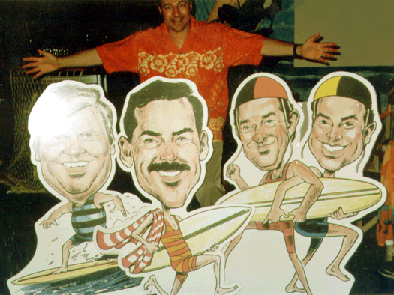 Now this was a surprise! The Australian Institute of Credit Union Management held their annual conference in Albury, and Steve arrived to find some of his pre-drawn caricatures blown up and mounted on foam-core display board as part of Fiserv's stand - they really looked impressive and certainly attracted a crowd. Not even Steve's Hawaiian shirt could scare them off!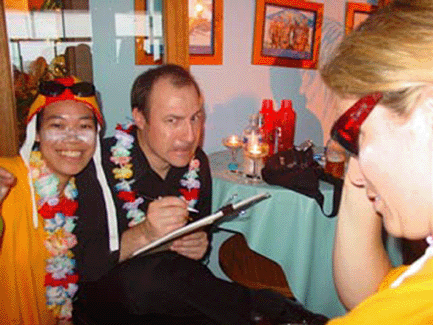 Another corporate Christmas party at Coogee Beach Surf Club... Steve got lei-d!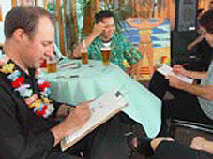 On-the-spot artwork of a different kind whilst in Shrewsbury at the Cartoon Festival: "The Big Board". Everyone had to create a giant painting (to the theme "Shrewsbury Goes Large"). Steve - a relative newcomer to painting on big boards - managed to steal some paint and cobble together an idea. Phew!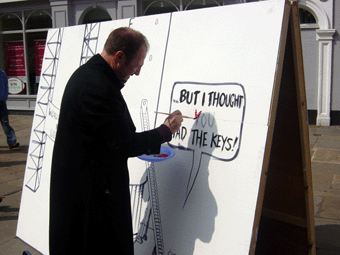 To have a look at some mural work, CLICK HERE!

See some Famous On-the-Spot Faces