On-the-Spot Caricatures!
On-the-spot, or "live", caricatures at functions, events, product launches and expos always attract a crowd. Better still, current and potential clients always walk away with a unique souvenir. If the caricature is professionally drawn, you can bet your bottom dollar that it will be kept forever.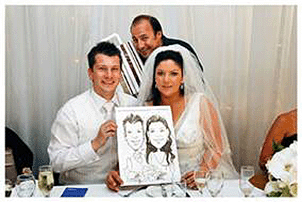 BELOW: The punters weren't the only ones with smiles on their faces at the AJC Spring Carnival Ladies' Day... so was the cartoonist! Seriously, some of those racing day hats were so big, Steve was worried about trying to draw on only A4-sized paper... let alone attempting to squeeze in multiple faces!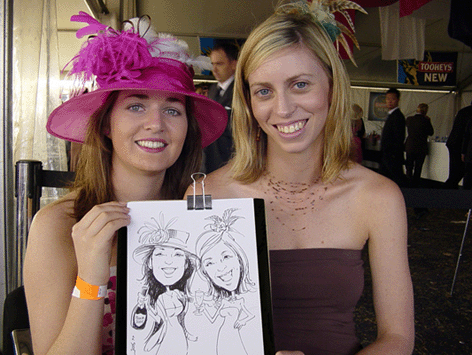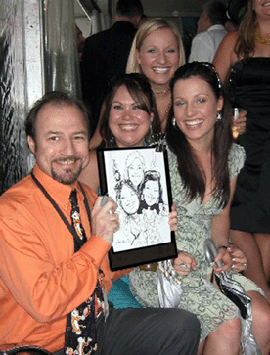 Often, attendees at some events become so enthusiastic about getting their caricature drawn, that it becomes hard to handle the queues that end up forming. Luckily, Steve enjoys the company of incredibly talented colleagues, such as Tony Kentuck (below) at these events - a lot of organisers make sure there's at least two caricaturists at hand!
MORE IMAGES
LEFT: Tony and Steve had a great time at The Money Show Expo a couple of years ago. Poor old Bernie Fraser (former Governor of the Reserve Bank of Australia) - the poor man's so inanimate, nobody realised that the cardboard version wasn't the real thing! However, it became readily apparent the bloke has a real cult following...
CENTRE: Steve draws an enthralled Christmas party crowd about the Svanen, one of Sydney Harbour's famed tall ships (2 December, 2000). Capturing likenesses (as the ship navigated the swells) became a real challenge!
RIGHT: The Sydney 2000 Olympics. Corporate sponsor, Samsung (being the wonderful people they are), hired Steve and five colleagues to draw their most valued clients at the Homebush site. After they'd endured a whole 1.25 hours of taxing, arduous labour, the cartoonists trekked all the way to the tent next door (namely Channel Seven's Millenium Marquee) for a few drinks! Kentuck missed the photo opportunity, having yielded to post-gig exhaustion.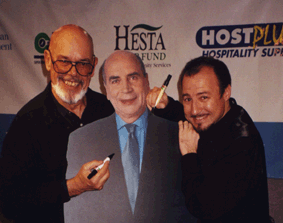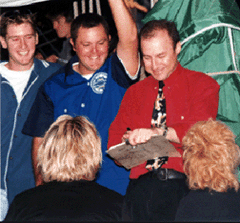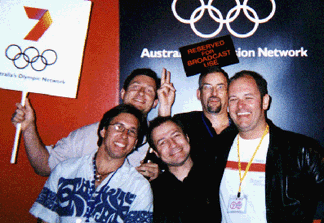 In April 2006, Steve travelled to England to take part in the Shrewsbury International Cartoon Festival, where over three days he drew countless caricatures of locals, Festival visitors (and fellow cartoonists!) and got to catch up with some old cartooning colleagues, especially British cartoonist Bill Stott, Irishman Martyn Turner and former Perth colleague, Dave Gaskill.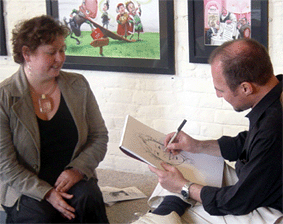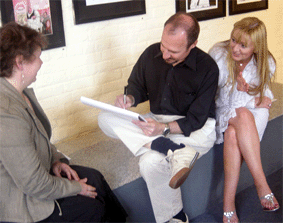 Drawing caricatures, accompanied by lovely assistant, Petrina Farrell (23 April, 2006)


OR... How About School Cartoon Workshops?

Click on the button to return to Noz Productions' Home Page