Stunning murals!
A recent addition to Steve's portfolio is his growing expertise in painting murals!
Steve Gawley commissioned Steve to fill a section of wall behind his bar (at the end of his home's new "memorabilia room"), which was to feature not only the family, but also a selection of each family member's "idols" - favourite singers, personalities, etc. Part of the family included a horse and a dog! It was certainly nerve-wracking for Steve to paint a picture on the wall of someone's house but, as you'll see from the photos below, it all turned out brilliantly!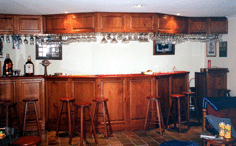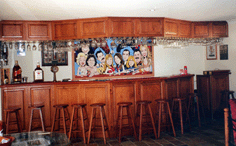 Before and after - March 2006
The client wanted the four family members to be each "accompanied" by two of their heroes. For example, he was a big fan of Elle McPherson and Status Quo, his wife loved horses - particularly Phar Lap - and Freddie Mercury. Her daughter loved her own horse and the Newcastle Knights rugby league team, and his son was into Aerosmith and Marilyn Monroe. The family dog, a selection of favourite drinks, car keys, mobile phone, the Melbourne Cup and the logo of the client's old school were also to be included. What a mixed bag!
The first step was to design the scene, and the easiest way was to draw the scene on paper, transfer it onto an acetate sheet and project the drawing onto the wall. Steve could then use that as a template.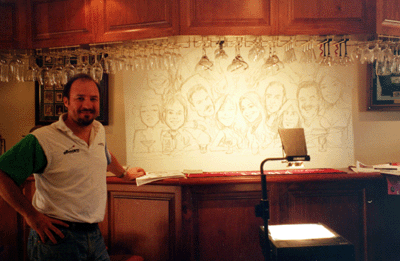 DAY 1: The pencil rough is projected onto the wall, ready for tracing!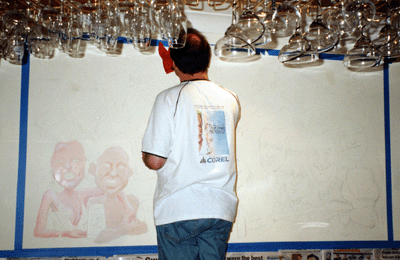 The painting area is taped up with 3M painter's tape, a pencil outline is drawn directly onto the wall and Steve starts applying base colours - mainly acrylic house paint. In case you're wondering, he is standing rather awkwardly on a small stool!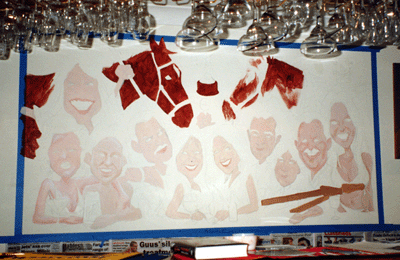 It's starting to take shape! Some rudimentary definition has been added to the skin tones. The long brown bits are the necks of Status Quo's guitars.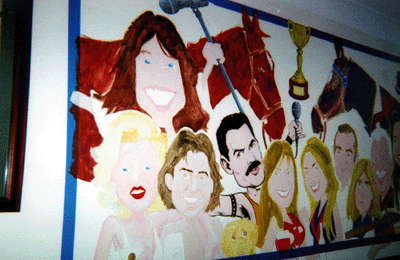 Using painter's acrylics, all the other colour areas (including eye colour!) have been filled in. A bit of black linework, and Freddie Mercury jumps out! Even Steve was surprised at how good it looked. Notice the horses' ears and the Melbourne Cup break the taped-up border and the last-minute addition of the family dog...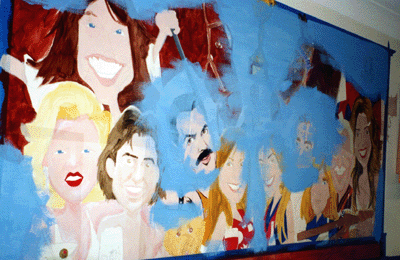 After careful thinking overnight, the client and his wife decide that light blue would make an ideal background colour. - this way the painting would look like a "window". So, using some Frisket film, Steve masked off the painted areas (VERY time-consuming!) and applied the blue...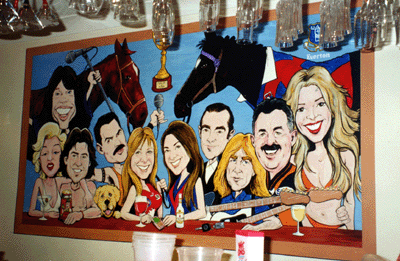 Voila! Final inking is followed by the removal of the tape, and the addition of a painted border aimed to look a little like a window, complete with faux shadow. The end result surprised the Gawleys, surpassing even their wildest dreams.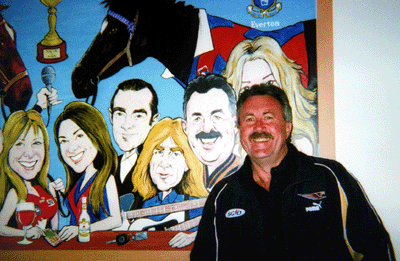 A happy client and alter-ego.

CLICK on the button to return to Noz Productions' Home Page!