Famous Faces!
Public figures and personalities are ripe for caricature. They are instantly recognisable, and elements of their personality - things they've done, characters they've played, song they've sung - are all a matter of public record. They are often enthusiastic about getting their caricatures done, either in studio or on-the-spot. Here are a few "famous faces" as seen by Steve.
AUSSIE LEGENDS
BELOW LEFT: Nicole Kidman is one of the most recognised faces in cinema, and certainly one of the better-known Australian actresses curently in Hollywood. This caricature (which measures 310mm x 710mm) was created for the 2003 Bald Archy Prize, after her Golden Globe win that year (but prior to winning the Oscar).
BELOW RIGHT: Neil Finn, although a proud Kiwi, has been more-or-less "adopted" by Australia as a favourite son. Split Enz, the band started by his brother Tim, made it big once they relocated to Melbourne and became one of Australia's most successful rock acts of all time. Neil's own band, Crowded House, became a world-wide phenomenon during the late-1980s and 1990s. This caricature was created for the Fred Hollows Foundation - signed by Neil, it raised several thousands of dollars for this worthwhile charity.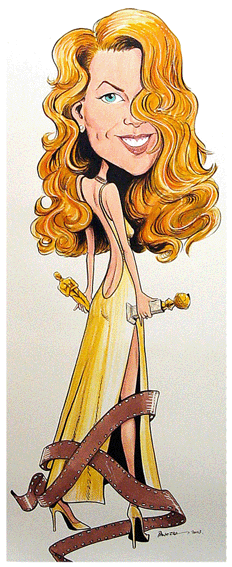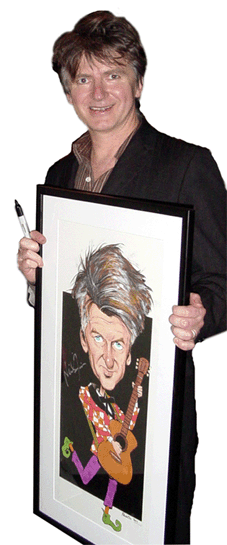 BELOW: Barry Crocker, the original "Aussie Legend", is now in his 70s and shows no sign of slowing down. Famous for playing cartoon character Barry McKenzie in two politically incorrect (but oh-so-funny) 1970s "fillums", he is also an accomplished singer, recording artist, actor, director and playright. His name has been part of the Australian vernacular for many years ("Barry Crocker" is rhyming slang for "shocker"). He even dabbled in cartooning at one stage! Have a look at Bazza's website by CLICKING HERE!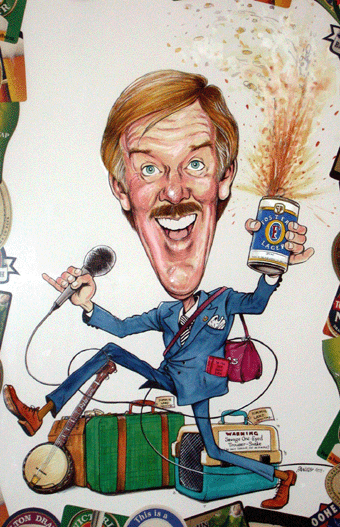 "Bazza" - gouache and ink (530mm x 780mm)