Presentation Caricatures
GREAT FOR BIRTHDAYS, RETIREMENTS AND FAREWELLS!
Scroll down the page to check out some examples of Steve's framed gift caricatures...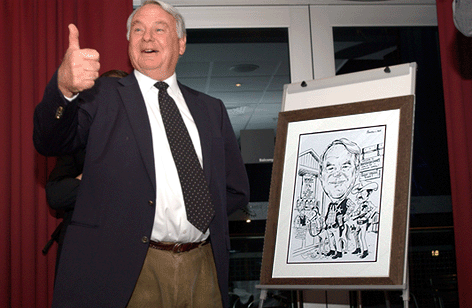 We all know someone who has everything. A personalised, framed caricature is the only gift that everyone gets a buzz out of both receiving and giving! Available in any size, in black & white or colour and with a range of framing choices to make your head spin. The reaction in the above photo says it all, don't you think?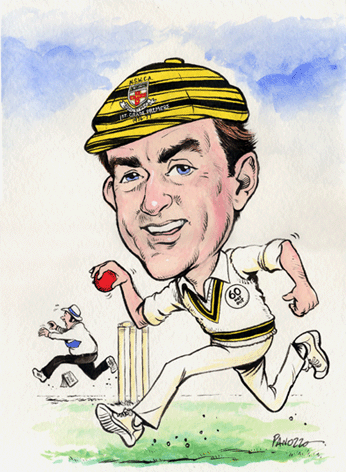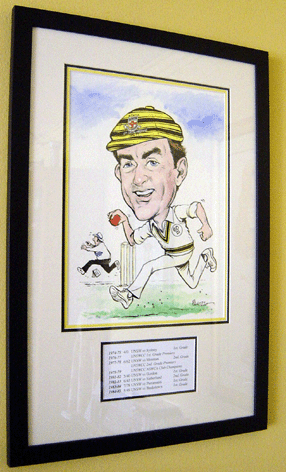 Here's a recent example of an A3 caricature and how it looks on the wall - fantastic, eh? It's probably important to point out that Steve only ever uses a professional framer. The subtle gold and black trim inside the mount reflects the subject's cricket team's colours, and notice the inset with his match statistics, an alternative to the traditional brass plaque.
Here's a recent caricature presented to Peter Mackley, the recently-retired former Chairman of Greythorn, a gift from his senior staff.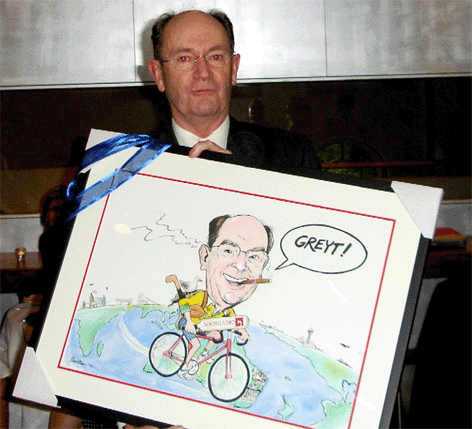 Clients often request group caricatures - poster-sized scenes featuring their entire office personnel which prove to be wonderful team-bonding exercises.
To see some samples, CLICK HERE.

(Copyright 2007 Noz Productions)

I've seen enough! Take me home...